Ladies and Gentlemen,
meet Mr. Brooks and shake his hand: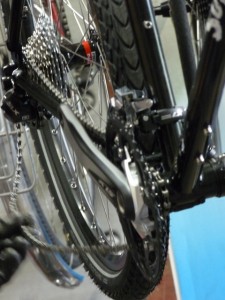 Who has not watched the movie with Kevin Costner should watch it. Mr. Brooks is classy and rather low-key, but when it comes to what he can be fast, aggressive and agile, which he has proven. His mileage up to this point equals 620 km, so I can say few words about him already. For the test drive I took him to the Czech Republic, where in the past week together we made 450 km, including 6.4 km of ascent…
He did great. Nothing to change, nor to fix. My greatest concern was the speed – I was afraid that the wheels 26″x2″ will not give me a chance with my friends on alloy trekking bikes with wheels 28″x1.5″ and SPD pedals. It turned out that I kept up without extra effort. Of course, they went ahead of me on any longer downhill, but they did not have to wait for long! My speed record so far is 64 km/h (with panniers and a tent), compared to a friend on semi-slick tyres – 72 km/h. I was not left behind thanks to long cranks (175mm) and a large front sprocket (48 teeth). This is how I had it in the previous bike and I like it that way. On ascents I had it supposedly easier, because having smaller wheels is like having more gears.
The bike weighed 13.3 kg without fenders, rack, kick-stand and the big bottle cages, so now it weighs close to 16 kg. My butt is not accustomed to the Brooks saddle just yet, although I made over a 1000 km on it already. I wonder how long will it take till I find it comfortable to ride every day…